About the Author
Ana Monnar was born on March 6, 1954 in Havana, Cuba. She is the oldest of four children. She moved to Miami, Florida at age seven. Since then, she became a U.S. citizen. Mrs. Monnar earned a Masters Degree in the area of Early Childhood and Elementary Education from Florida International University. Mrs. Monnar has been teaching for more than 20 years. She's taught second, third and fourth grades. She also had the opportunity to work as a Reading Curriculum Specialist and Reading Leader. She has written successful grant proposals and earned the title, "Teacher of the Year" in the 1980's. Mrs. Monnar has inspired many learners to write Award winning pieces. Her students have won trophies and certificates for District Contests such as Young Authors, Books With Wings and Poetry Contests.

Meet My Family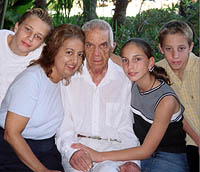 © Copyright 2002 All rights reserved Readers Are Leaders U.S.A.
Do not remove anything from these pages without owner's permission.
Thank you,
Ana Monnar

This page was created by Web Designs by Diamond
Please email the webmaster with any problems.