Half Full, Or Half Empty?

An imaginative collection of poems written by
Ana Monnar
The topics expressed in the poems were such as faith, hope, determination, responsibility, kindness, compassion, Alzheimer's Disease, nature, famous inventors, unity, plus much more.
Rich in vocabulary, this book will inspire most audiences.
You will find a variety!
Narrative Poems
Couplets
Haikus
Alliterations
Limericks
This book shows respect for the young, old, rich, poor, homeless and it even includes excerpts from English to French, Italian, Portuguese and Spanish. It also offers tips and helpful websites.
Truly an educational literary piece of work!

Half Full, Or Half Empty?
Written by Ana Monnar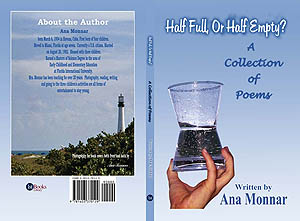 ISBN 1-4033-7012-5
Now Available at
1st Books
(Paperback)Barnes & Noble
(Hardcover) Barnes & Noble

(Click on links above to purchase)
Copyright ©2004 Ana Monnar

© Copyright 2002 All rights reserved Readers Are Leaders U.S.A.
Do not remove anything from these pages without owner's permission.
Thank you,
Ana Monnar

This page was created by Web Designs by Diamond
Please email the webmaster with any problems.