Poetry from Planet Earth
This children's poetry book is appropriate for ages 10 and up.
The book provides simple guidelines for writing poems. It also offers helpful websites. The poems throughout the book are educational.
Couplets
Acrostics
Haikus
School to Work
Natural Disasters
Thank God
Land
The Universe
Character Education

Poetry from Planet Earth
Written by Ana Monnar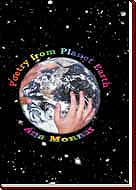 ISBN: 1410709000
Available at
1st Books
Barnes & Noble
Amazon.com
(Click on links above to purchase)

Poetry from Planet Earth
Preview
Planet Earth is the place to live
Take care of your planet
So you can breathe
Do your share
Preserve the land
Take care of the air
Maintain the water clean
Star Light, Star Bright
Star Light, Star Bright
What is it I wish to glimpse at tonight?
I wish to view a spectacular sight
Where I may gaze from a mountain's delight
Under the moon and stars' light
After climbing and reaching the mountain's peak
I will look down and stare at the ocean and feel the breeze
Afterward, I will think carefully about what I truly seek
I'm in quest of peace on Earth
Praying that there will be no more wars
So that the young, old and middle-aged will be safe
No more unnecessary dying, crippling or pain
Only faith, love and kindness and then we will all gain from a safer world to raise children of every race
Copyright ©2004 Ana Monnar

© Copyright 2002 All rights reserved Readers Are Leaders U.S.A.
Do not remove anything from these pages without owner's permission.
Thank you,
Ana Monnar

This page was created by Web Designs by Diamond
Please email the webmaster with any problems.